What is the Discark Application for Facebook?
With the Discark application for Facebook, you can display and link to Discark products on your Facebook profile. If you're selling music on Discark, why not show off your work on Facebook? If you like the music on Discark, why not support the bands? Albums shown on your profile will link back to their respective product page on Discark for others to listen to samples and buy.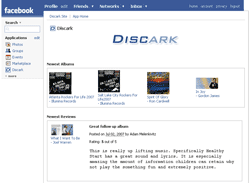 Adding the Discark Application
Go to apps.facebook.com/discark. Facebook will ask you to sign into the Discark app. Follow the steps until you reach Discark's "canvas page", which displays Discark's newest products and product reviews.
Adding an Album to Your Profile
Navigate to the album of your choice on Discark.com by browsing to or searching for it. At the top of the page, you will see a link saying "Add this album to your Facebook profile" along with an "add" button. Clicking either of those links will add the album to your profile. You may need to log into Facebook to continue.
If you have not added the Discark application yet, you will be asked to log in and add it at this point. If the album is not added right away, go back to the album's product page on Discark and try again.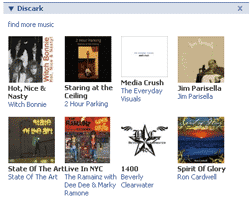 Removing Albums from Your Profile
If you make a mistake and add an album you don't want to display on your profile, simply go to your profile and click the "[remove]" link under the album you want to remove. Don't worry, these remove links show up only for you. Your friends will not be able to delete albums from your profile.
Can I review and buy products on Discark with my Facebook account?
No, if you would like to review a product on Discark or make a purchase, you will need to sign up for a Discark account.
Will more features be added to the Discark application?
Yes. Right now, the Discark application is in "Beta", meaning that we are still adding new features and working out the kinks (not the band).
What if I have a problem with the applicatioin?
You may give us any feedback through our feedback form at discark.com/en/tickets/add. You will need to sign up for a Discark account in order to submit any feedback.